Enter His gates with thanksgiving and His courts with praise. Give thanks to Him and praise His name. – Psalm 100:4
Oh, how many times have I gone to the Lord in prayer and burst straight into my concerns and desires? My eyes are focused on me, not Him. I pour out my wants before I bow in worship!
And then I catch myself, stop dead in my prayer tracks, and sigh in repentance. I remember my place. Yes, He is my Abba, my Father who loves me and delights when I run to Him. But He is also Lord, Yahweh, Elohim. He is worthy of my humble adoration, a contrite spirit, and penitent heart.
In that instant of remembrance, my words turn to praise and thanksgiving. For it is in praise that I acknowledge His worthiness; it is in thanksgiving that I demonstrate my delight in Him. I thank Him for who He is, and for what He has already given. He knows the requests of my heart before I even speak them, so there is no need to rush to spill them out. First, I must enter His presence with thanksgiving and praise.
What a blessing it is to always notice the big and little gifts that God gives. I'm continuing to notice them and giving thanks to God for each of them.
conversation with my girl; seeing God working in her
football game and marching band
basement tidied up
back-to-school shopping date night with my son
him driving
my girl making chocolate chip cookies that are as good as her dad's
news of a wedding engagement
In hope,
Shelli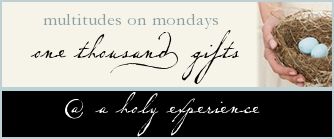 This post is linked with the Gratitude Community at Holy Experience
as I share my list of One Thousand Gifts.